Quality makes the difference.
ALZON® liquid-S 25/6 is the combination of stabilised nitrogen with two forms of sulfur. The sulfate sulfur from the ammonium sulfate can be utilised by the plants immediately. The sulfur from the ammonium thiosulfate on the other hand is converted in the soil in several stages and absorbed by the plants as sulfate sulfur in line with their requirements. Ammonium thiosulfate acts as a pure source of nutrients and it does not have any nitrogen stabilising effect. With a very high surface tension of 60 – 80 mN/m and a pH value of between 6 and 8, ALZON® liquid-S 25/6 has very high plant compatibility.
It depends on the drop size

The creation of coarse drops succeeds thanks to the use of anti-drift nozzles (ADN) with a low spray pressure (approx. 2 bar). A coarse drop spectrum is thus achieved.

Special liquid fertiliser- (LF) or multi-hole nozzles should preferably be used under critical conditions in order to apply the liquid fertiliser in a "rain" formation even in large quantities.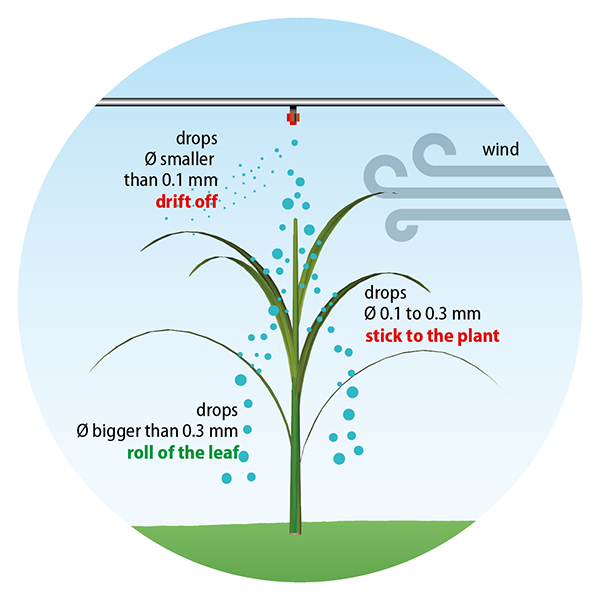 The nozzle selection is decisive
ALZON® liquid-S 25/6 can be applied evenly, with precise dosage and right up to the edge with customary plant protection technology. All nozzles are well suited for the start of spring growth or at sowing. The following applies for fertilisation in crop formations: The drops should be greater for more sensitive plants and the spray pressure should be lower. The choice of nozzle can have a decisive effect on the plant compatibility. We recommend anti-drift or multi-hole nozzles from the second application in cereals or oilseed rape.
The use of drag hoses or pipes is recommended for later application and generally following ear emergence, for unfavorable weather conditions or in sensitive crops. The choice of nozzle must ensure the effectiveness of the combination partners for the combined use of ALZON® liquid-S 25/6, with plant protection agents in particular. Anti-drift nozzles will preferably be considered here while taking heed of legal requirements.